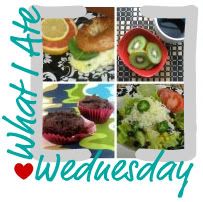 !!
My morning started off with a banana and 1/2 cup of Chocolate Glazed Donut Coffee. Another unpictured banana. Woops! Today I set out for 2 miles, but I wanted to push myself and I knew I would perform and feel better having some fuel in my body. I did! My first mile was ran at an 8:56 pace and my second mile was ran at a....7.39 pace! I am sans Garmin and track my distance on Dailymile.com then plug in my stopwatch time, so that's the accuracy you're getting, but I'll take it!
Doesn't my breakfast look so patriotic?
1/2 cup rolled oats
1/2 cup unsweetened soy milk
1/4 cup Whole Foods bulk bin honey granola
And the other 1/2 of my coffee...iced!
For lunch I baked good old plain tofu and some tofu with this Spicy Peanut Vinaigrette from TJ's. I let the tofu marinate over night and boy oh boy did that flavor shine through. I highly recommend it!
Lunch was a TJ's whole grain flour tortilla with:
mashed up chick peas with a fork
(out of hummus, avocado wasn't ripe enough, and too lazy find food processor in a kitchen box that is still taped up)
We interupt this WIAW to bring you...
So I happen to love ducks. They were one of my first words, duckah duckah, and my stocking from when I was a baby has a duck on it...
Well anyways, I was laying out at the lake listening to podcasts and reading magazines when this little guy flew over. He was later joined by a friend!
The video is literally this little ducky and his friend doing duck like things. Only 30 seconds, check it out if you like super cutie, webbed feet, patooties.
After I got back from the lake I was craving cold, fresh fruit. And you know what makes fresh fruit taste even better?
Your boyfriend's childhood Ninja Turtles bowl of course!
This combo of a juicy pear and blueberries hit the spot after being out in the hot sun!
Dinner was pretty fabulous if I do say so myself. I actually made this last night (minus the tofu), so it was left overs but shhhhh, tasted just as good tonight!

kale + chick peas sauteed in TJ's Spicy Peanut Vinaigrette
lots of quinoa
baked tofu marinated in TJ's Vinaigrette
See you next Wednesday!