What is MTE, you ask? It's Marathon Training Edition! I ran 17 miles on Monday and thought it might be fun to show a day of Long Run Eats.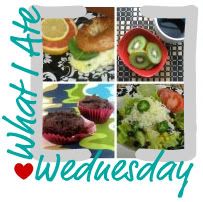 Monday morning I woke up around 6:45 to be out the door by 7:30. I fueled up with a banana and peanut butter. That's right, no bread. Sometimes it makes me feel too full before a long run. I got outside and was greeted by crisp, fall weather. I layered up with running tights, tank, and long sleeve shirt; about 45 minutes in I tied the long shirt around my waist. I felt prepared with 3 GUs and 20 oz water bottle.
I struggled again with my water bottle conundrum. Although 20 oz of water ended up to be perfect for the distance/weather, the bottle felt heavy in my hand. I was also juggling the water bottle in one hand and my cell phone in the other because my SPI belt was too full with the 3 GUs to fit anything else.
I took
Blueberry Pomegranate Roctane 45 minutes in and around 1:45 I took my 2nd GU, Strawberry Banana. I tend to stick with fruity GUs, the thought of espresso or chocolate on a run just turns my stomach!
When I got home I did as much streching as my muscles would allow and then made myself a smoothie. I call this a *Super Smoothie* because it gave my body the nutrients it was craving!
1 packet Amazing Meal Vanilla Chai
1 1/2 cups unsweetened soy milk
This super smoothie is full of nutrient packed calories and plenty of protein!
Lunch time I ate some delicious soup and 2 slices of Trader Joe's sprouted multi-grain bread. Seriously, how did I ever live before a crock pot!? The other day I threw in lentils, pearled barley, veggies, spices, water, and had a hearty soup 8 hours later!
If I've ever said anything negative about TJ's seaweed snacks, I take it back! I love wasabi and couldn't resist buying these. They did not disappoint.
Dinner was soup...AGAIN! With one slice of Trader Joe's sprouted multi-grain bread with a side of roasted turnips, brussel sprouts, and a big ole squirt of ketchup! Even WIAW: MTE couldn't stop me from repeating meals!
Soy Creamy is dreamy. For reals. This stuff is so delicious, and has none of that funky soy taste/funky texture.
Are you a meal repeat offender?
When I cook, I like to make big batches because I honestly don't mind repeating meals. And it makes my life so much easier. Plus, I tend to like the things I make, so it's enjoyable to eat the same thing for a week straight! The lovely Jenn at Peas & Crayons calls this being in a "food jag"!
How do you fuel your long runs/exercise? This run the GUs worked well. I experimented last week with natural fuel, but it was too messy! At least with GUs it's quick, simple, and I can focus my energy on running. I used to do a PB Banana sandwich, but now find the banana and PB to be much better.
How do your taste buds feel about Trader Joe's seaweed snacks? My taste buds didn't know what to expect, and so I was a bit grossed out at first. Then I tried the wasabi and fell in love! I think they have such a strong ocean-y flavor, but once you get used to it, it's really tasty.